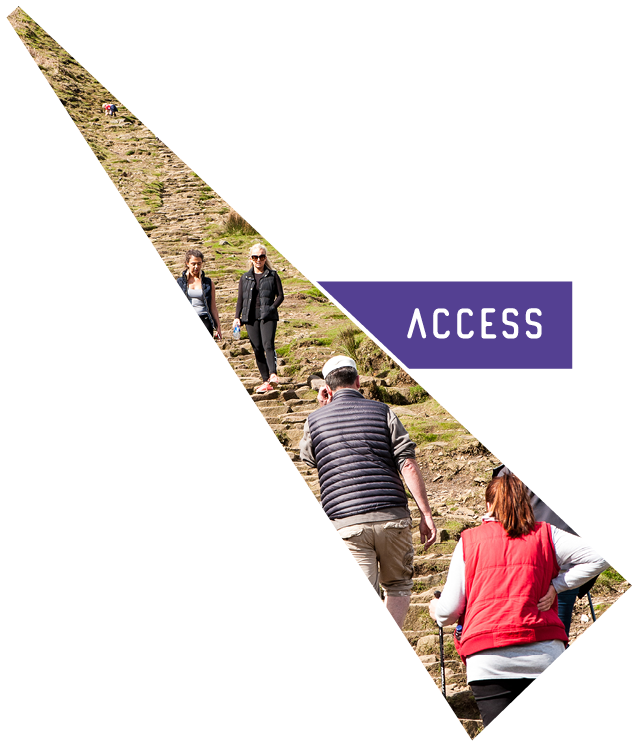 The Access for All Project aimed to:
Develop visitor hubs at established 'honeypots'    
Use digital technology and traditional methods to inform people, to reduce pressure on over used sites, and to reduce conflicts.
Improve access for all by promoting alternative key routes in order to disperse visitor pressure and by providing routes for all abilities
Improve 4 visitor facilities and provide on-line or app-based digital interactive information about the area
Provide at least one new Tramper for use in the area
Create new concessionary link routes to encourage visitors to access Pendle Hill from alternative routes.
Create new interpretation panels and install visitor counters along busy routes
These improvements aimed to help visitors more easily explore and learn about the wider landscape and heritage of Pendle Hill, whether they be walkers, cyclists, horse riders or wheelchair users.
The project has created and improved the following key routes and will soon be shown on a map here.
Downham to Chatburn concessionary bridleway, a new multi-user route providing safe, off-road access between the villages and into the wider Pendle Hill Landscape
Churn Clough Tramper and easy access trail enables access to the countryside from the village of Sabden using a safe circular route with gates rather than stiles. A community Tramper is based beside St Nicholas church and is freely available to hire.
Heys Lane, the historic high level lane linking Roughlee and Barley, was improved and re-surfaced to enable year-round use by horse riders, cyclists and walkers and to complete a circular route between the two villages.
A stretch of Coal Pit Lane on the Pennine Bridleway near Gisburn was restored and improved to reduce future water damage and flooding. Another multi-user route providing access to the wilder side of Pendle.
A length of the track across the top of Pendle on Mearley Moor was improved as part of the peatland restoration works, including new gates to replace a broken stile and field gate.
In the time since the pandemic, when visitor numbers visibly increased, we have also carried out numerous small scale improvements to paths around and on Pendle – replacing ladder stiles with gates, and draining, improving and resurfacing boggy or dangerous stretches.
Outdoor interpretation work has also been successful with a re-vamped information barn at Downham; and new interpretation at Barley, Nick o' Pendle and Spring Wood – all providing heritage information as well as advice and guidance on where to walk. New stone waymarkers at seven points across the hill assist walkers in the more remote areas; and waymarking of the key routes keeps people off private land or inaccessible areas.
Our re-vamped Countryside Code was launched during the pandemic to advise new walkers of how to 'respect, protect and enjoy' the countryside; and farm information signs advise good behaviour in visitor 'hot spots'.
30 promoted routes in the area are now available on-line, and using the Outdoor Active App. Each one has been devised, written and checked by staff and volunteers; and will be assigned to volunteer monitors to check regularly. The 'Summit Else' printed walks guide describes 12 of these walks which offer a variety of scenery, heritage and challenge. 'Ride Pendle' is a similar set of road/off-road routes for cyclists exploring the area.
We also have a set of 'Earthcaches' a kind of geological geocache now available in the area.