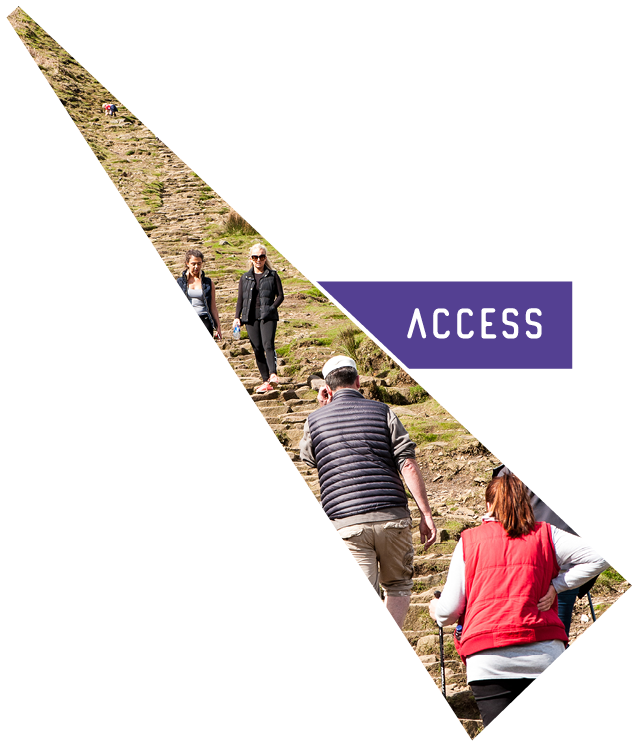 The aims of the Access Project are about:
Developing visitor hubs at established 'honeypots'    

Using digital technology and traditional methods to inform people, to reduce pressure on over used sites and to reduce conflicts. We will also improve access for all by promoting alternative key routes in order to disperse visitor pressure and by providing routes for all abilities

Improve 4 visitor facilities and provide on-line or app-based digital interactive information about the area

Provide at least one new Tramper for use in the area

Creation of new concessionary link routes to encourage visitors to access Pendle Hill from alternative routes.

Create new interpretation panels and install visitor counters along busy routes
The 'Access for All' project will improve and manage key visitor 'gateway sites', including Barley, Downham, Spring Wood and the Nick o' Pendle, and access routes with the PHLP area.
These improvements will help visitors more easily explore and learn about the wider landscape and heritage of Pendle Hill, whether they be walkers, cyclists, horse riders or wheelchair users.
This project will also provide opportunities for volunteers to engage with promoted routes.
Project Updates - September 2020
Pendle Hill Summit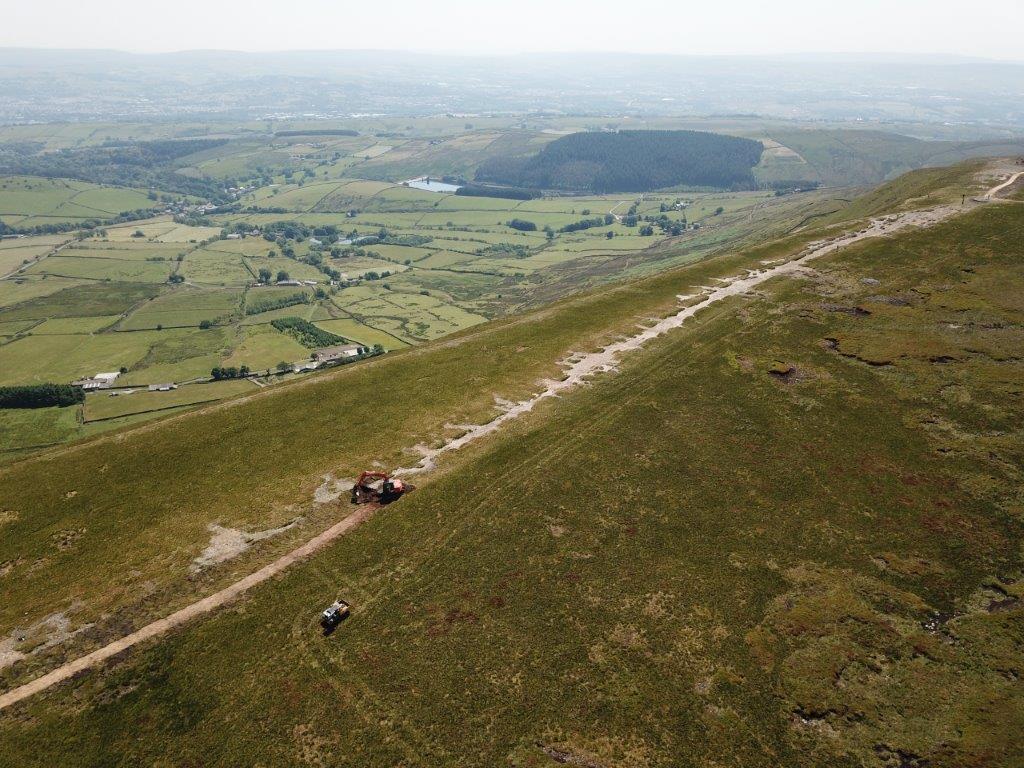 In year 1 of the project we turned out attention to Pendle Hill, the most popular attraction by far within the PHLP area of concern. Those of you who have visited the hill for years will remember the poor state of the Cart Track, and the erosion scar along the eastern ridge of Big End. Through the summer of 2018 we undertook major works to restore the tracks to good condition making them resilient, comfortable and safe for walkers and Pendle & Rossendale Mountain Rescue, who can now quickly respond to calls on the hill by taking ATVs up the Cart Track.
Downham Concessionary Bridleway
Between January and June 2020 work was undertaken to create a bridleway between the villages of Chatburn and Downham, working closely with the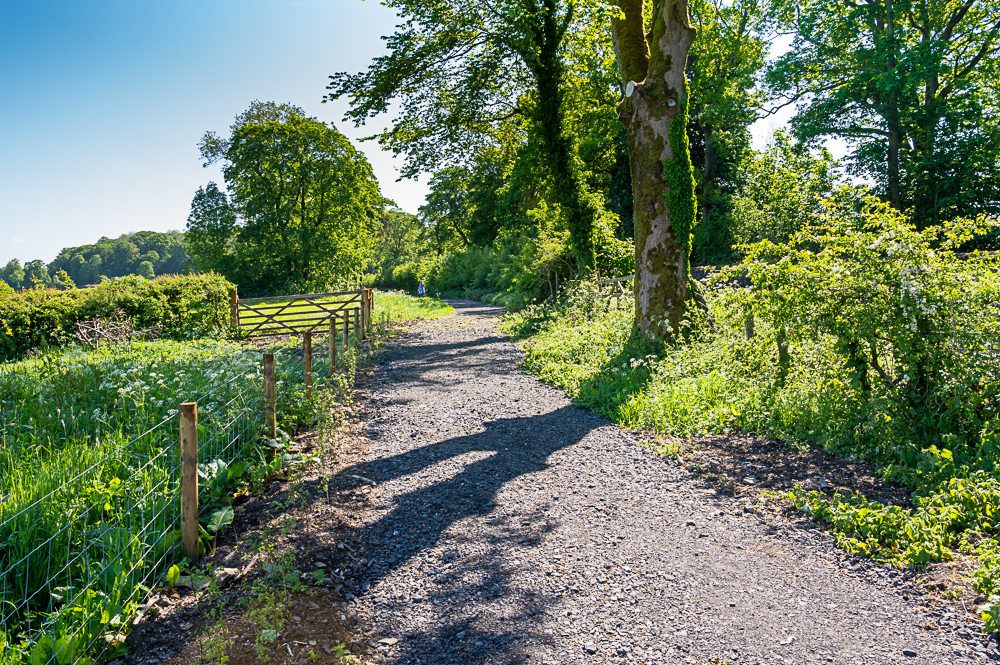 Assheaton Estate. Prior to the creation of the bridleway foot, bicycle and horse traffic had to use the road to travel between villages, which was an dangerous  prospect given that vehicles are permitted to travel at 60mph and views around corners are obstructed by high dry stone walls. CPY Excavations have, amidst terrible February weather and the Covid-19 pandemic, constructed a safe multi-user route connecting the villages which is not only functional and durable but also tasteful, blending in to the picturesque countryside seamlessly (before the 1km-long hedgerow has even grown)!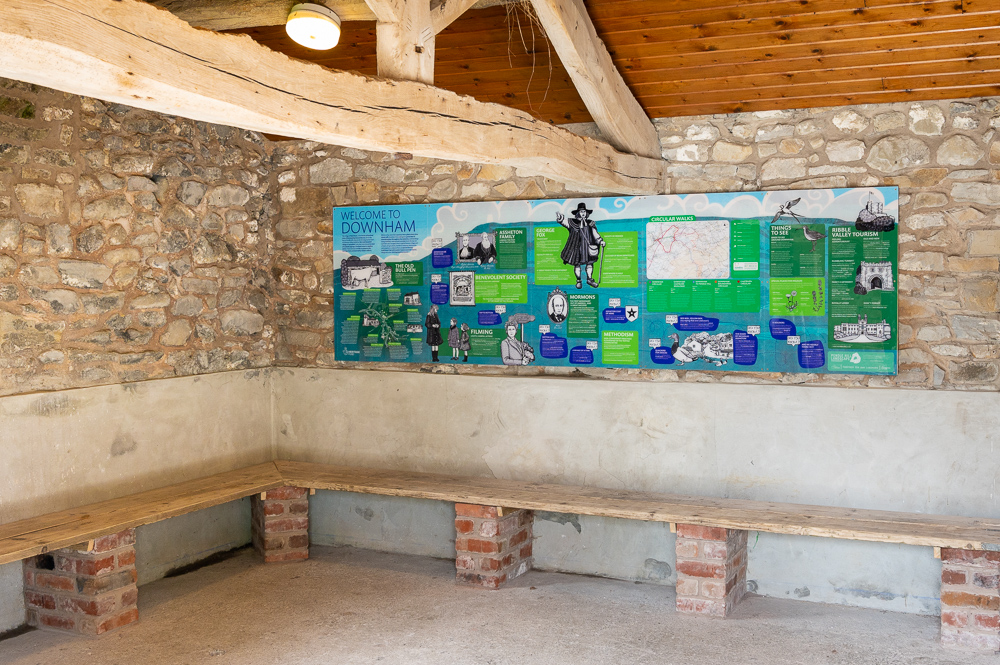 Downham Information Centre
The Downham Information Centre is a small structure housing toilet facilities and information boards. The building was in need of an upgrade, and work was undertaken between March-June 2020. A new window was formed greatly improving the natural lighting within the Information Centre. Additionally, benches, new information panels and a bicycle repair station have bene installed. The new centre is a brighter, more welcoming space which will serve as an information hub for Downham visitors for years to come!
Stone Waymarkers
Through the summer of 2019 three stone waymarker posts were installed on Pendle Hill. The markers aim to direct walkers towards their destination whilst also encouraging use of the new paths created in 2018, minimising erosion created by widespread footfall and giving previously-eroded ground a chance to revegetate.
Access Improvements
In conjunction with Pendle-area Parish Councils and the Pendle Lengthsman we have carried out numerous repairs to stiles and gates along popular footpaths in the area. We identify damage to Public Right of Way furniture through reports from our Promoted Route Volunteers, general public tip-offs and Parish Council reports. Our aim is to keep as many routes as possible safe and accessible for those who wish to enjoy them. Pictured below are repairs on a route showcasing dry stone walling around Downham – get the map here
If you do wish to notify us of any repairs in the PHLP area please feel free to contact us through our website
Countryside Code
The Covid-19 pandemic has resulted in a large influx of visitors to the PHLP area who may not ordinarily have come to the area to enjoy the countless walks and view on offer. In order to inform new and returning tourists how to experience the countryside safely and respectfully we have produced new posters and signs which have been distributed throughout the Pendle Hill Area. Be considerate of others, stay safe and enjoy your days out!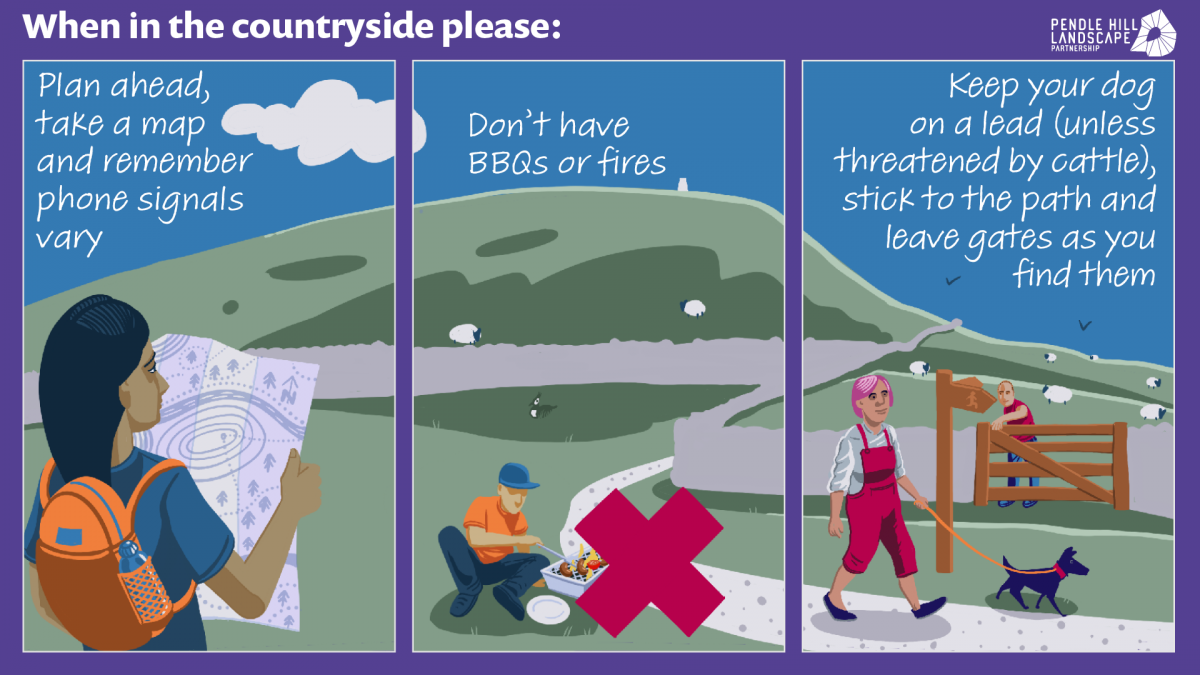 Coming up…
We have numerous projects coming up over the next two years. Some of these are in the late stages of planning; some have even begun!
New Promoted Routes: Look out for a new batch of Promoted Routes throughout the PHLP area for walkers of all abilities.
Peat restoration and path on Mearley Moor: Restoration work was started during winter 2019-20 and is set to be completed through winter 2020-21. Peat restoration is a major way in which we can reduce Carbon Dioxide emissions
Spring Wood: Work is set to begin on completely renovating the Spring Wood visitor centre in late 2020/early 2021. The building will be upgraded and made a more attractive and useful prospect for visitors to Spring Wood, as well as being energy efficient and environmentally friendly.
For additional information and resources, please see our Explore pages.
Contact: sarah.dornan@lancashire.gov.uk