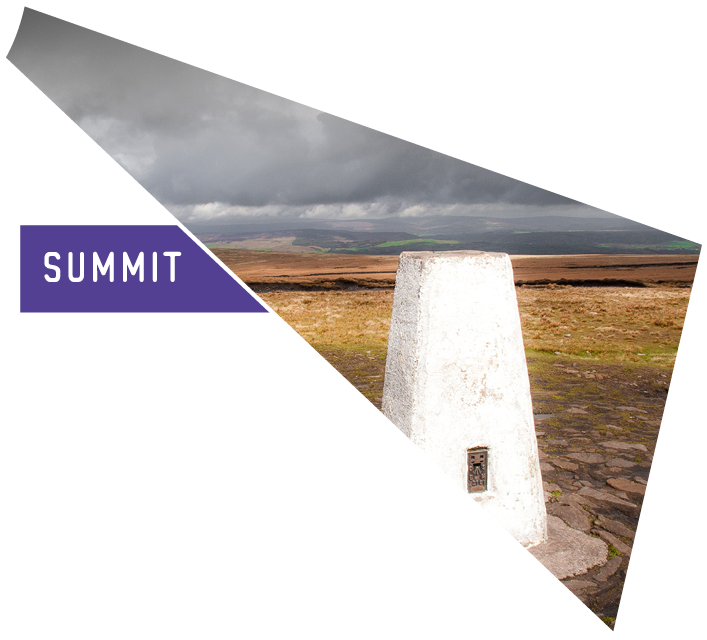 Path Restoration  

Contractors Conservefor began restoring 2600m of footpath in June 2018.
Using a combination of techniques the well worn paths have been re-profiled and rerouted to reduce the erosion scar on the summit plateau leading to the Trig point.  The cart track route has been re-profiled and stone water bars have been installed to divert water running down the path and shedding it before it can damage the path more.
Along the full length of path restoration, moorland seed mix has been broadcast and has started colonise what was bare ground.
Summit Stones
As part of the Pendle Hill Summit project an artist has been commissioned to undertake work to create a contemporary 'Panorama' feature to celebrate the views from the trig point and stories of the hill in a permanent yet unobtrusive artwork.
A community engagement programme to let people know what is happening and to engage them in conversation about the hill followed to inspire them to learn more about the landscape, heritage and stories of the hill, and to get involved in the activity.
Summit Shelter
A dry stone wall Shelter built by a master craftsman, Phil Dolphin from the Dry Stone Walling Association has been built in the boundary wall between Downham and Barley, incorporating two step stiles.
The ladder stile has been replaced by a new kissing gate and field gate allowing much easier access from one side of the hill to the other.
Two days dry stone walling course has restored 10m of dry stone wall along the same boundary engaging  10 new volunteers.
Contact: sarah.dornan@lancashire.gov.uk 
Peat Restoration
There are areas of bare and eroding peat on the summit of the hill, as well as deep and actively eroding gullies leading down across Barley Moor.
This project aims to:
·  restore the peatland habitat for wildlife
· reduce carbon losses from peat erosion
· reduce the impact of peat sediment on fish spawning grounds further downstream
· slow the flow of water off the hill during high rainfall events
· rewet the peat by increasing rainwater infiltration
· increase the public awareness of the importance of peat
During the first year of the project, our contractors Conservefor undertook the following:
·  re-profiling the edges of the peat hags and the gullies to reduce peat erosion
· installing coir logs to slow the flow of water
· Covering the bare peat with heather brash cut from the hill to encourage re-vegetation
. Seeding with upland grasses and bog forming sphagnum mosses
. planting cotton grass plug plants to help start the revegetation process.
For additional information and resources, please see our Explore pages.
Contact: sarah.robinson@lancashire.gov.uk 
This project is part funded by the European Agricultural Fund for Rural Development: Europe investing in rural areas