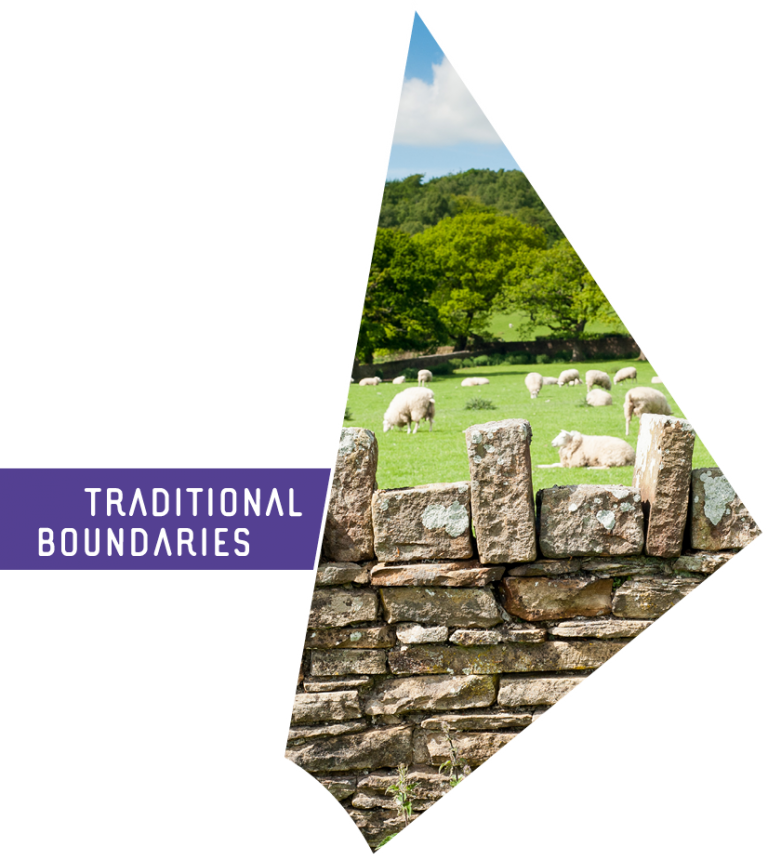 The traditional boundaries project will be led by the Dry Stone Walling Association (DSWA), working in partnership with the National Hedgelaying Society.  A project co-ordinator will be employed by DSWA from January 2019 to December 2021.
Project Aims and Objectives
To restore and maintain traditional boundaries as an essential element of the landscape
To restore and maintain hedgerows for biodiversity and flood risk management
To provide training in rural skills (hedge laying and dry stone walling) for trainees, farmers, parish lengthsmen, contractors, young famers groups and volunteers
To raise awareness of the value of traditional boundaries and of rural skills
The Traditional Boundaries Project has been developed to combat the decline in the condition of our landscape  heritage and  loss of traditional rural skills in the Pendle Hill area. It will achieve this by: 
Restoration of Traditional Boundaries - The project will select high priority walls and hedgerows for restoration, as identified in the PHLP Boundary Action Plan. The targets are to restore 1000m of walling and 6000m of hedges. The restoration work began in November 2019 with the wall alongside the track up to the bottom of the steps up Pendle. By the start of 2020, this was supplemented by work on seven stretches of hedgerow around the project area - look out for a long stretch beside the A59 at the turning to Chatburn which is due to begin in late February 2020.   
Advice to Community groups, Farmers and Landowners - Advise and support farmers and landowners in accessing, securing and delivering boundary restoration works via Defra agri-environment schemes, including the Capital Boundary Grant. So far we are helping four of our farmer network members access these grants.  
Training - Training courses in both dry stone walling and hedgelaying will be arranged in each year of the project and will be tutored by experienced and qualified, professional Instructors. So far we have organised four walling training courses and two hedgelaying courses, working with young farmers and volunteers. One of the 'graduates' from 'walling school' has already had their first paid contract! 

Traditional Boundaries Update: January 2022 
Since December 2020 we have restored a further 3km of hedgerow around the Pendle Hill area. This has included some impressive lengths of laying at Schofield Farm near Pendleton and at Sabden Fold farm, tucked under the south east side of the hill. Contractors have also coppiced and replanted long lengths of redundant hedgerow at Lower Gazegill, Rimington; Mountain Farm, Laneside and Hathaway Fold. Recently we have also completed fencing and planting up 830m of new hedgerow at High Whitaker Farm on the banks of the River Calder upstream of Padiham. This latter project was sponsored by the Environment Agency who are keen to carry out nature-based solutions like this where it is hoped that the new hedges will trap water, sediments and impurities before they reach the river.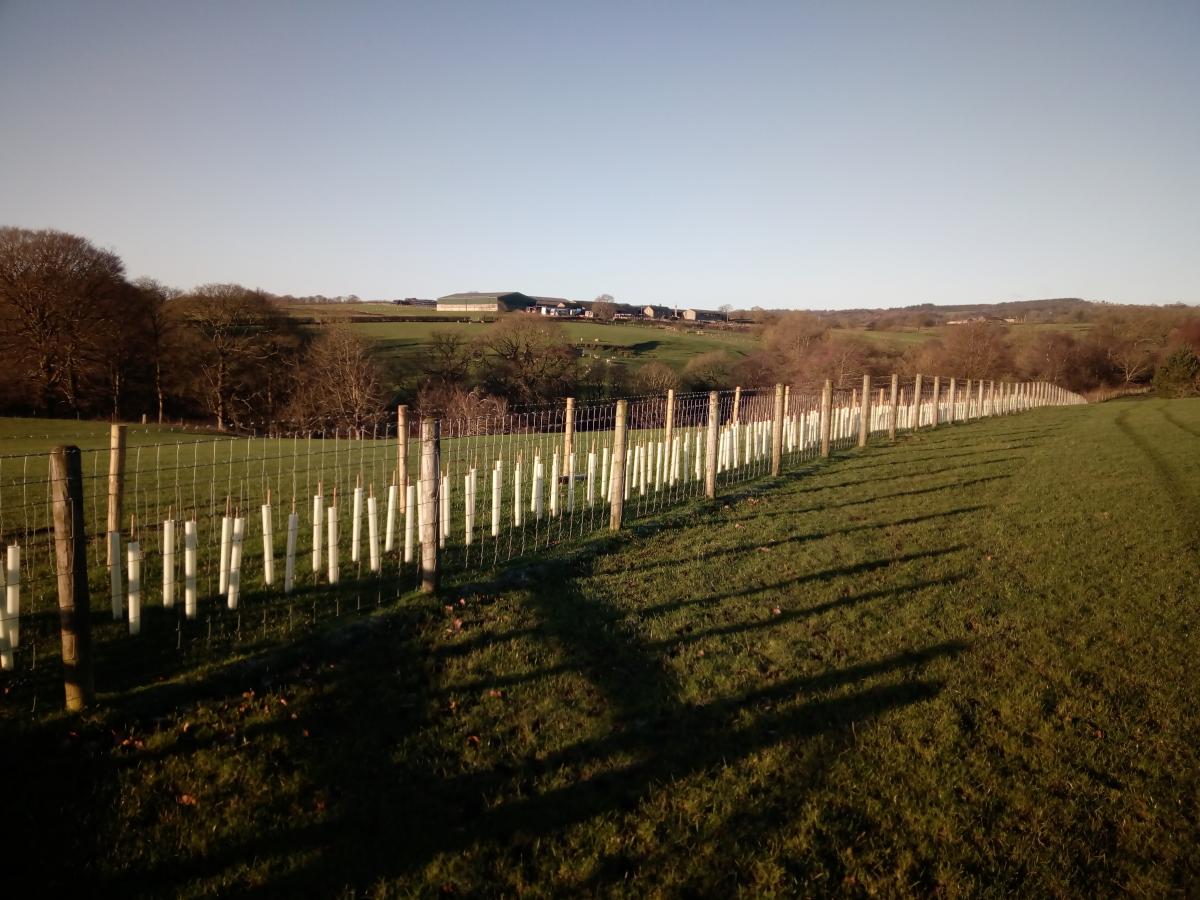 We have also had great success in 2021 training volunteers in both hedge laying and dry stone walling skills. Organised by the Dry Stone Walling Association and supported by professional trainers, 60 people have been trained at beginners and level 1 courses based at Martholme Greenway, Pendleside and Overhouses. All together these courses have also restored nearly 300m of boundary and invested 126 volunteer days.
In 2022 we hope to host the Bowland Hedgelaying Competition, plus further beginners and level 1 courses; and we still have 3 major walling restoration projects to deliver!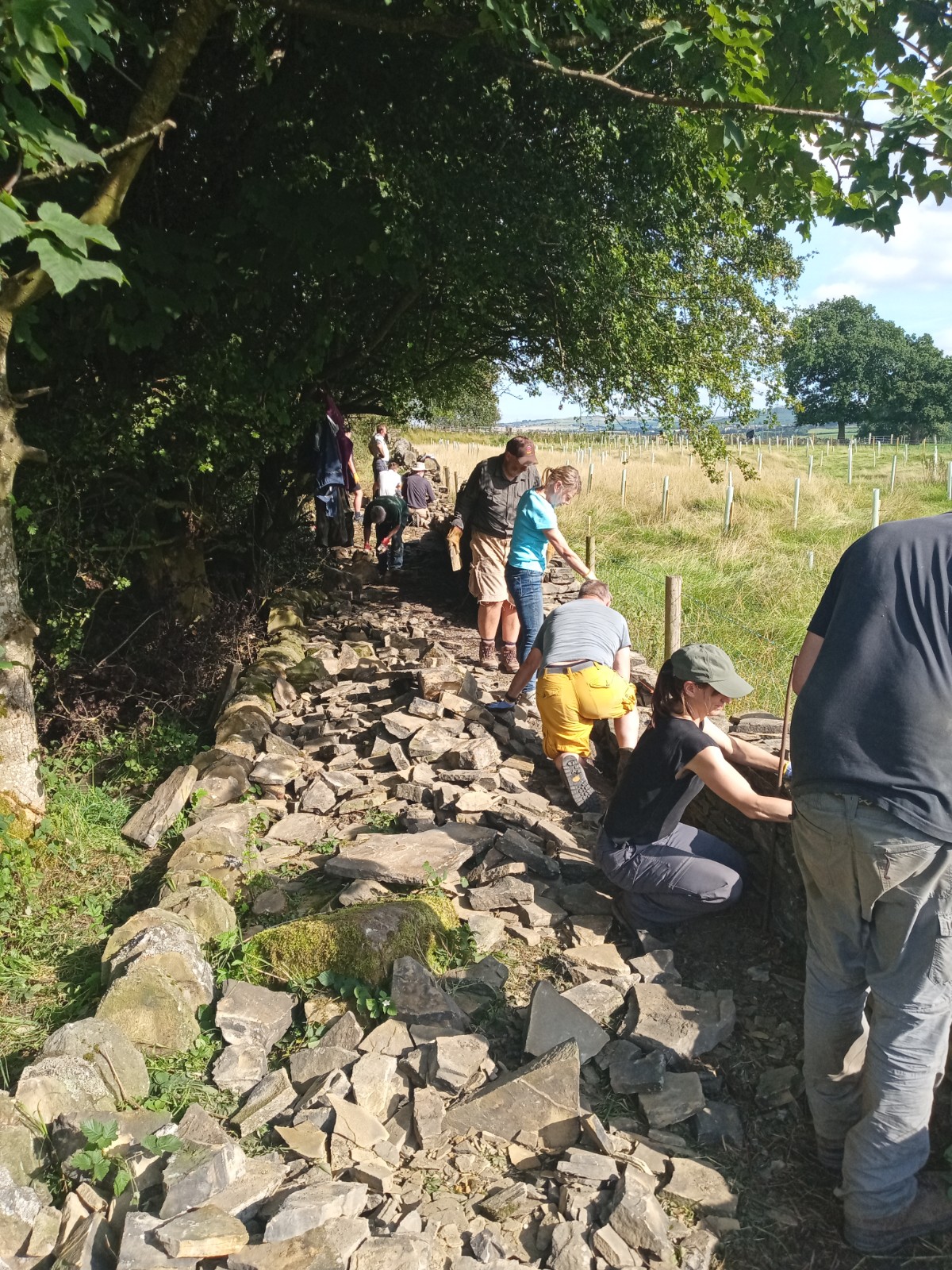 Traditional Boundaries Update: August 2020
The Traditional Boundaries project, delivered in partnership with the Dry Stone Walling Association (DSWA), has been very busy over the past 12 months.
During July and August 2019, the DSWA organised a Level 1 dry stone walling training course which was held on some of our local farmer group farms. Eight participants worked really hard over ten days and we are really pleased to say that they passed their Level 1 assessments. Even better, we have news that two of them have now been able to taken on paid walling work, so we are counting this as a real success story for the project.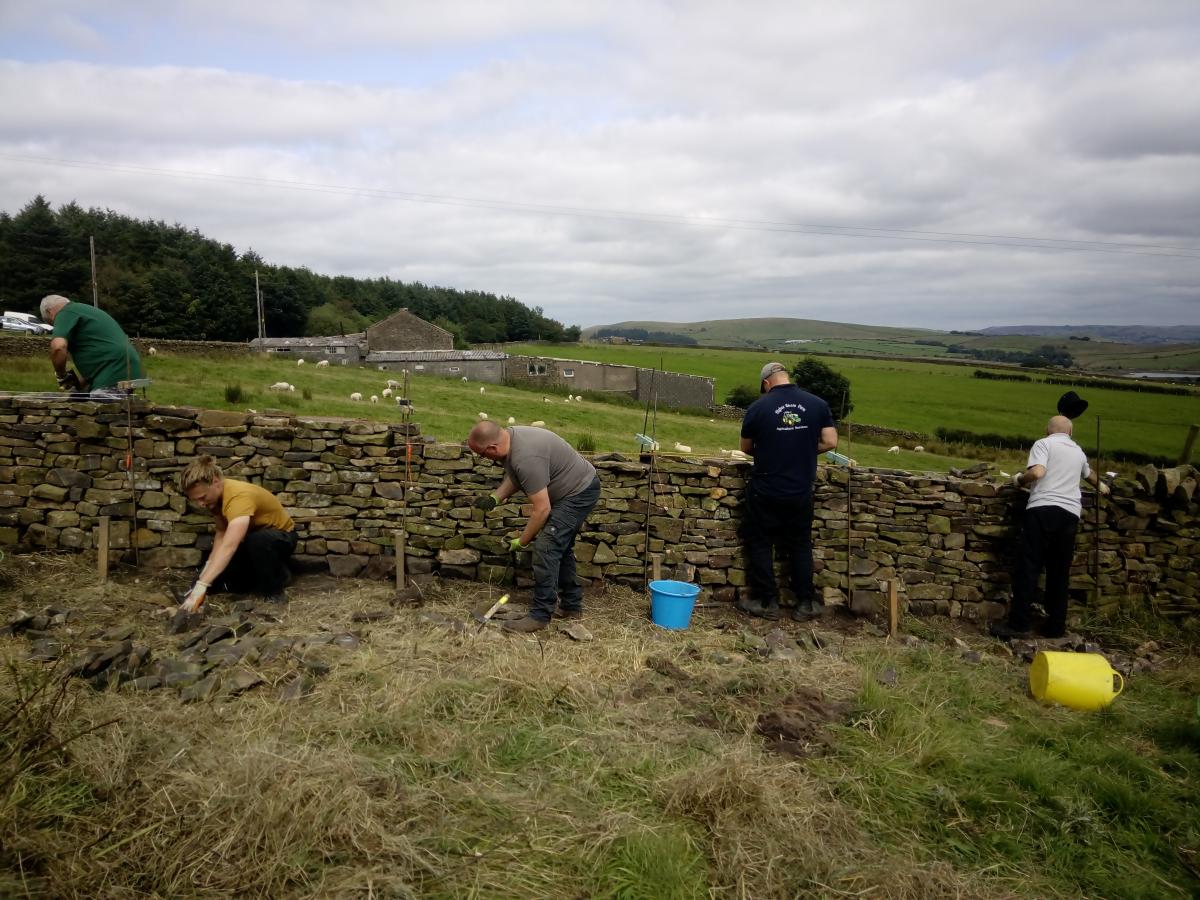 In October 2019 we had ten people attending our two day hedgelaying training course at Downham and from the feedback forms, it seems that everyone had a really great time, enjoyed the course, learnt new skills and laid 120 metres of hedge for the project.
This has been the year when the professionals have really started making progress on restoring and repairing sections of dry stone wall, laying hedges, coppicing and planting up gaps as well as planting whole new stretches of hedgerow. Dry stone walls and hedgerows are really important within our landscape for lots of reasons. They provide homes for lots of insects, birds and small mammals; they are important for natural flood management, and slowing the flow of water; they provide boundaries for livestock within farmland; and they have an important heritage and history, particularly within the local uplands landscape. However, restoration work can be expensive, which is why we are so happy to be able to fund some of this work through the Traditional Boundaries project.
For the restoration part of the project we have chosen boundaries which can be seen from footpaths and viewpoints, link together existing habitats, are important in a historical context and which help to slow the flow of water overland during heavy rainfall events.
So far the contractors have restored 278 metres of stone wall alongside the track to the bottom on the steps at Pendleside and a total of 1149 metres of hedges on six farms around the hill – you may have seen the 500m stretch where the Chatburn Road meets the A59 at Smithies Bridge.
Another 392m of walling is due to be completed in 2020 and another 2000m of hedging is due for the coming winter season, and we will be resuming our courses and volunteer work as soon as it is safe to do so, please keep checking our social media and website for when these will be rearranged to.
Find out more about our partners Dry Stone Walling Association
For additional information and resources, please see our Explore pages.
Contact: Please contact Cathy Hopley at PendleHill Landscape Partnership on Cathy.Hopley@lancashire.gov.uk