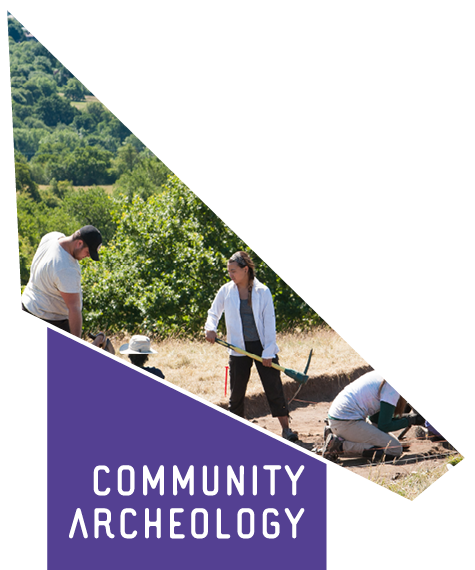 This project was led by the PHLP team and supported by Northern Archaeological Associates (now part of Ecus consulting Ltd) and by the Archaeology department at Preston's University of Central Lancashire (UCLan).

The project aimed to provide a series of archaeology training courses, which would improve the skills of volunteers to enable them to survey and interpret local archaeological sites. We also planned to provide discovery days and participatory events which would enable the local community to gain a greater appreciation of the development of the historical landscape of the LP area.
In total 18 training days were held, and 145 volunteers learnt how to undertake tasks such as field surveys, interpreting LiDAR and historic maps, planning a project, identifying and illustrating archaeological finds. Due to the pandemic some courses and talks were held online and these were incredibly popular. Jess Wight also led a number of local history walks and talks for volunteers in the summer of 2022.
Over the course of the scheme, six students from UCLan spent their summer internship attached to the project and they all contributed their time, skills and knowledge to activity such as remote sensing; excavation; community outreach and education.
At the beginning of the project, in the summer of 2018, a five-week excavation was held near Malkin Tower in conjunction with Professor Charles Orser and UCLan. Alongside international and local students, Pendle residents and schoolchildren were able to uncover historic remains and artefacts on a site which potentially had links to the Pendle Witches story. Local volunteers also contributed valuable research into the recorded history of the site.   
Because of the pandemic any further excavations were delayed until late 2021 and summer '22, when we were able to explore a site near Worston along the line of the Roman Road which links Elslack with Ribchester. Two excavations, held in starkly contrasting weather conditions, enabled over 100 people to take part and learn the skills of an archaeologist. A small section of road and some important artefacts helped to reveal its secrets – read the reports here: 
Ribble Valley Archaeology Group, set up by some of the volunteers involved in the project, have been extending the search for the Roman Road, Visit http://romanroadresearchproject.co.uk/ to find out more about what they have been doing and visit the Contact Us page to find out how you can get involved!
Finally, and also in the summer of 2022, UCLan were able to excavate an anomaly at a scheduled ancient monument, the Portfield Iron Age hill fort, identified by a student and suggesting an earlier Bronze Age settlement. Again, this excavation was inconclusive, but it did provide valuable insight and experience for students, volunteers and visitors.
You can view the Archaeology project image highlights here and watch our Archaeology film below.