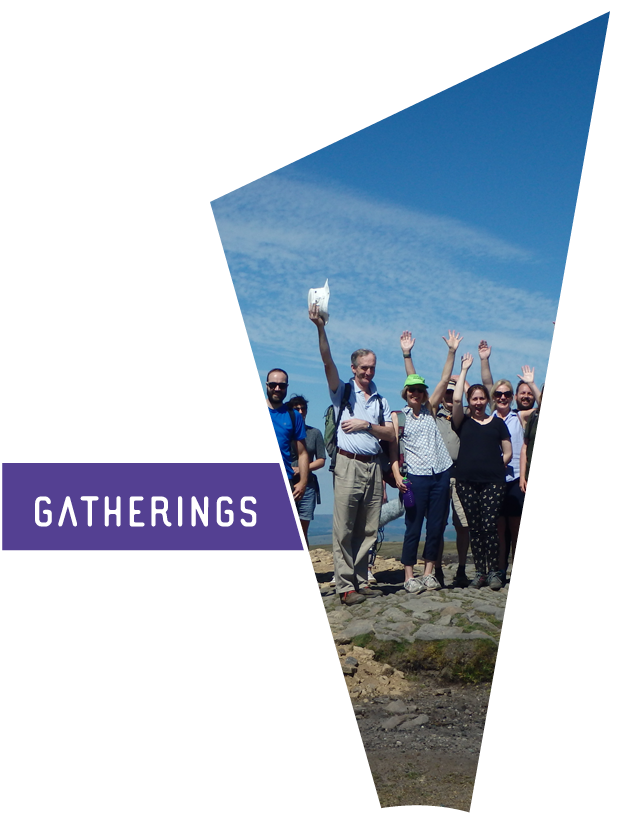 (Re-)Introducing local people to the landscape that surrounds them. Working with artists to engage and inspire people with the natural environment of Pendle Hill and create opportunities for all to enjoy it.​
The Gatherings is the art and people strand of Pendle Hill Landscape Partnership (PHLP).
Over the next four years, In-Situ will support the project by working with artists on a range of exciting commissions. Each will explore how people connect to the hill and its intangible heritage, cultural traditions, traditional skills, knowledge and dialects. Through each project we explore cross-disciplinary dialogue, putting forward alternative approaches and collaborative ideas to ensure the success of the project lies in its embeddedness in the communities of, and around, Pendle Hill.
These commissions will involve working collaboratively with the communities that surround the hill: telling stories, opening dialogue and finding new and novel ways of exploring landscape, art and community.
In-Situ has been commissioned to lead on The Gatherings as social arts practitioners, experienced in how people connect to place. Along the way, we will explore the role that artists can play in landscape projects as part of an interdisciplinary approach.
Over the past two years, we have worked with artists on a diverse range of interdisciplinary projects. Our programme to date has included:  
Material Culture Unearthed: a travelling opera performance with Nastassja Simensky and Rebecca Lee, made in response to a community archaeological dig at Malkin Tower Farm, Pendle.
Henrietta Armstrong's permanent yet unobtrusive sculpture 'Summit Stones' which saw 12 hand-engraved sculptures, each representing a different aspect of the area's fascinating history, hidden atop Pendle Hill. 
The creation of 'Corky' by 'How About Studios': a multi-functional touring art space, designed to reflect the natural environment and heritage of the Pendle Hill area. 
Artist Kerry Morrison and local chef Andrew Dean's creation of the Pendle Peat Pie, a fusion of traditional and modern Lancashire cuisine - with a chips and curry filling representing the important peat restoration process. See also the Sowing in Time video which depicts last year's public seed scattering event on Pendle Hill, which raised awareness of the issues of Peat loss locally, and enabled local people to restore Peat on the Pendle Hill. 
We were also joined by collective duo Lunchtime Practice in the summer of 2019, who created hands-on experiences for children and young people to explore modern-day archaeology.
We have also been instrumental in the development of the Summit Shelter and a mobile studio, through conversations with architecture students at Manchester School of Architecture.
Summer 2020 brought us our first-ever Digital Gathering: a month-long season of debate, discussion and ideas sharing as well as intimate 'in conversations' with some of our current artists and collaborators. We were joined digitally by over 280 people from across Pendle and beyond to discuss topics from Pendle's Radical history to landscape intervention and the future of our communities. All of these conversations can be viewed for a limited time on our Facebook page, which you can view here.
Artist Isabella Martin began work on the Traditional Boundaries residency in early 2020, a project which focuses on the heritage of drystone walls and hedges within the Pendle landscape. The residency has faced unpredicted challenges, as the COVID-19 restrictions have kept Isabella physically and geographically distant from Pendle. Despite this, Isabella has kept close proximity with the materials that have been available to her and the exciting culmination of her research and ideas will be a new film work, to be shared in the coming months. 
From November 2020 until April 2021, we ran Testing Ground: a series of micro-residencies for artists. Testing Ground was provided as a direct response to impacts that COVID-19 continues to have on the arts and artists, supporting established and emerging artists to experiment as they trialled new ways of creating and sharing work. Due to the restrictions of COVID-19, each residency was different as some artitsts were able to visit and stay in Pendle (when Government guidelines adviced it was safe to do so), whilst others carried out their residency from home. A diverse and responsive body of work has been created, which we look forward to sharing. Pictured below is a page spread from Bethany White's zine The Residency, a guide to making cyanotypes inspired by the processes used during their Testing Ground residency.  You can find out more about all of the work  made during the residency here.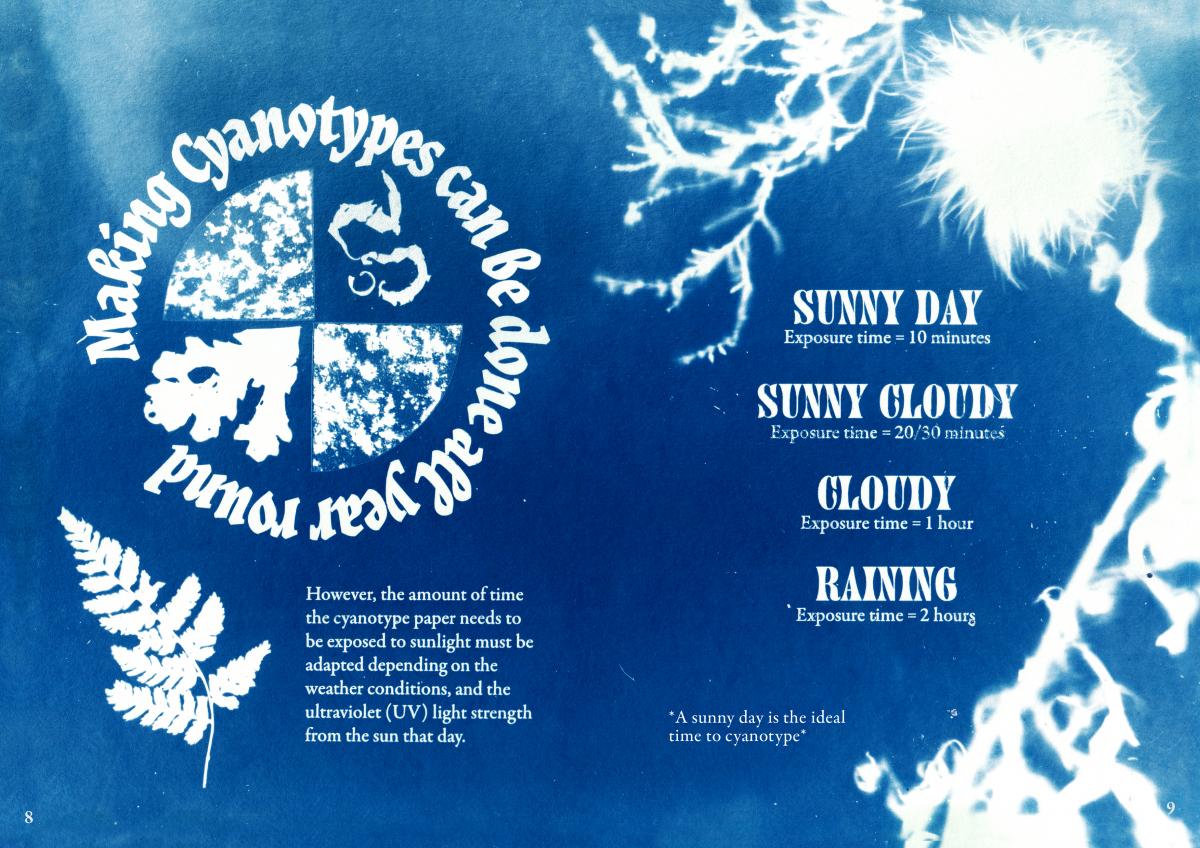 Another of the artworks that came to fruition through the Testing Ground residency series was Georgia Lomax Thorpe's Pendle Sound Map. Georgia tracked her movements as she walked around the Hill, capturing auditory sensory experiences that will be manifested as an interactive map. Having published an open call for audio recordings and meeting people, whilst maintaining social distance, to gathering recordings, the map will also include local reflections on the landscape. When out walking Pendle Hill, Georgia would stop to begin conversation with strangers. Below is a screenshot of the map, which shows the scope and ambition of Georgia's work. Hear the conversations, field recordings, folk songs and more by following the link: https://pendlesound.uk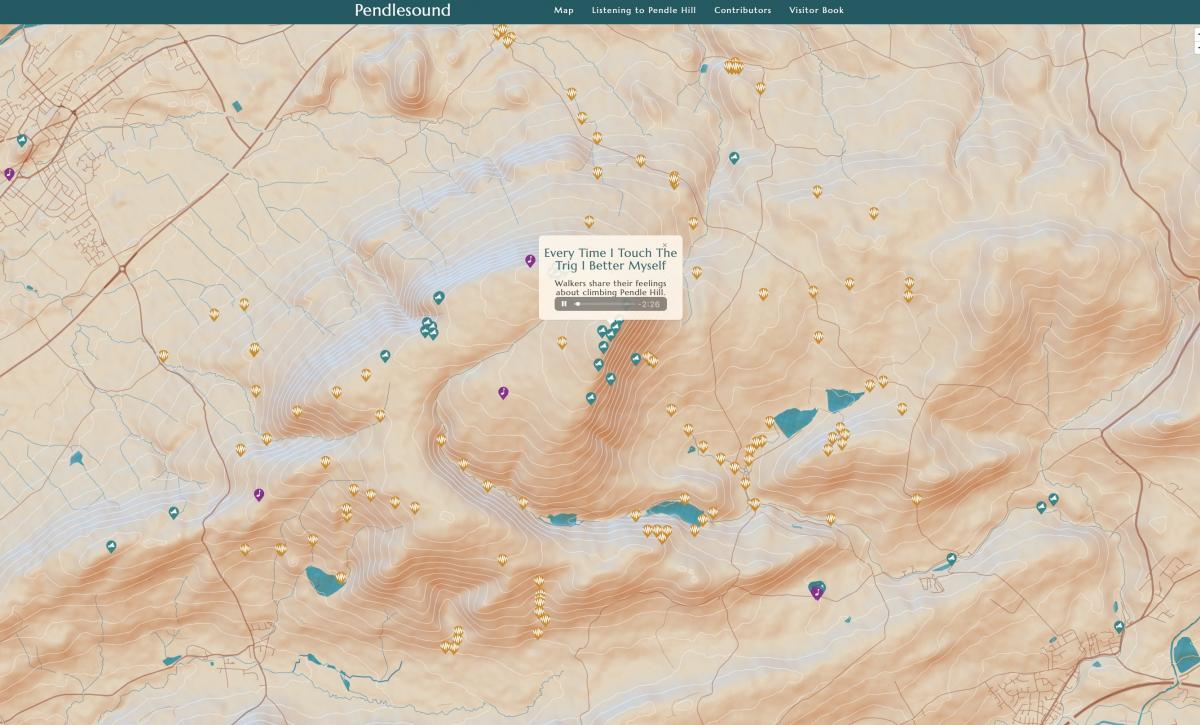 Contact: Sophie : sophiem@in-situ.org.uk