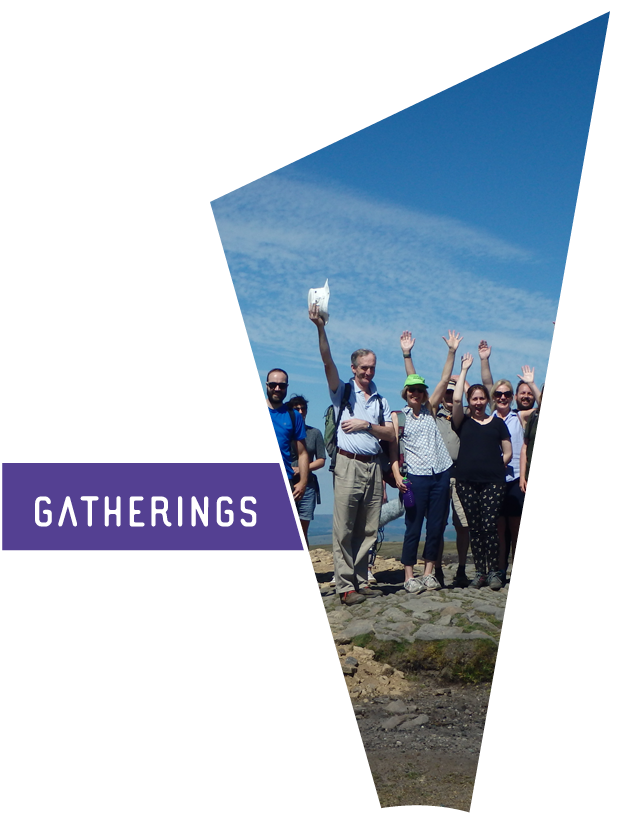 (Re-)Introduced local people to the landscape that surrounds them. Worked with artists to engage and inspire people with the natural environment of Pendle Hill and created opportunities for all to enjoy it.​
In-Situ was the lead partner commissioned to deliver The Gatherings as social arts practitioners, experienced in how people connect to place, and based within a stone's throw of the hill in Brierfield.
In-Situ worked with artists on a diverse range of interdisciplinary projects. The programme included:  
Material Culture Unearthed: a travelling opera performance with Nastassja Simensky and Rebecca Lee, made in response to a community archaeological dig at Malkin Tower Farm, Pendle.
Henrietta Armstrong's permanent yet unobtrusive sculpture 'Summit Stones' which saw 12 hand-engraved sculptures, each representing a different aspect of the area's fascinating history, hidden atop Pendle Hill. 
Artist Kerry Morrison and local chef Andrew Dean's creation of the Pendle Peat Pie, a fusion of traditional and modern Lancashire cuisine - with a chips and curry filling representing the important peat restoration process. See also the Sowing in Time video which depicts last year's public seed scattering event on Pendle Hill, which raised awareness of the issues of Peat loss locally and enabled local people to restore Peat on the Pendle Hill. 
We were also joined by collective duo Lunchtime Practice in the summer of 2019, who created hands-on experiences for children and young people to explore modern-day archaeology.
​Artist Isabella Martin began work on the Traditional Boundaries residency in early 2020, a project which focused on the heritage of drystone walls and hedges within the Pendle landscape. The residency faced unpredicted challenges, as the COVID-19 restrictions kept Isabella distant from Pendle. Despite this, Isabella created a beautiful film Outlines 
From November 2020 until April 2021, we ran Testing Ground: a series of micro-residencies for artists. Testing Ground was provided as a direct response to impacts that COVID-19 had on the arts and artists, supporting established and emerging artists to experiment as they trialled new ways of creating and sharing work. You can find out more about all of the work made during the residency here.
In 2022 In-Situ hosted two artists: Nisha Duggal and Hafsah Aneela Bashir. Both artists were able to work in a far more engaging way post-Covid, and their resulting works can be seen here very soon! 
You can view the Gatherings project image highlights here. Hafsah Aneela Bashir's beautiful film called Heart of Pendle can be watched below.